The Ultimate Adventure: Hiking The World's Most Scenic Trails
admin, 1 year ago
0
2 min

read
96
Are you someone who craves adventure and the great outdoors? Then hiking the world's most scenic trails is an experience you cannot miss. From Machu Picchu to the Grand Canyon, there are countless trails that showcase the most breathtaking landscapes you'll ever see. Here's a closer look at some of the world's most scenic hiking trails that will leave you in awe.
Machu Picchu, Peru
The ancient city of Machu Picchu is one of the most iconic destinations in South America. The Inca Trail, a 26-mile trail that takes about 4 days to hike, is the most popular way to reach Machu Picchu. Along the way, you'll pass through ancient Incan ruins and stunning mountain scenery, including breathtaking views of the Andes Mountains. The final destination, Machu Picchu, is a UNESCO World Heritage Site and one of the most recognizable landmarks in the world.
Kilimanjaro, Tanzania
Mount Kilimanjaro is the highest peak in Africa, standing at over 19,000 feet above sea level. The hike to the summit is challenging, but it's worth it for the sweeping views of Tanzania's vast savannas and the towering mountain peaks of neighboring Kenya. The trek takes about 5-9 days, depending on the route, so take your time to acclimate and experience the breathtaking scenery at every turn.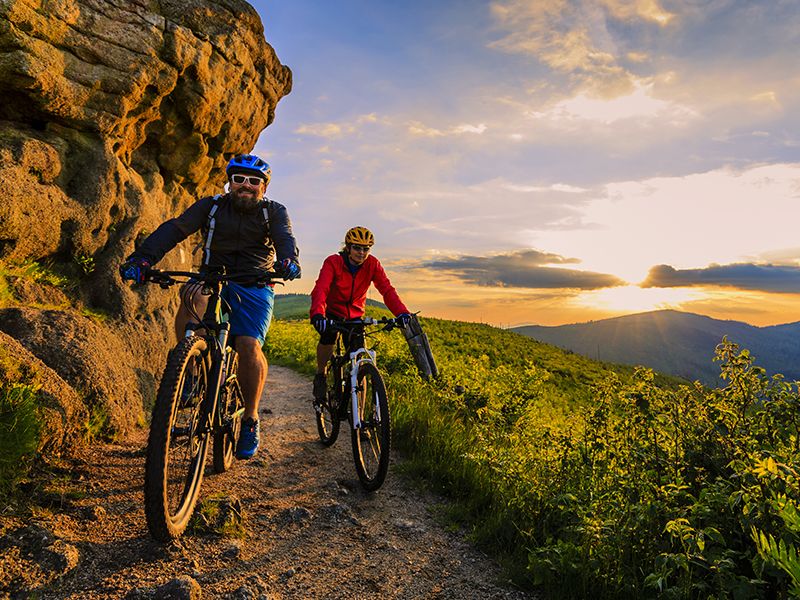 Grand Canyon, USA
The Grand Canyon is one of America's most famous natural landmarks, and hiking its trails is an experience like no other. The challenging hike to the bottom and back up is worth it to witness the awe-inspiring panoramic views that the canyon offers. There are many trails to choose from, ranging from easy to difficult, but the South Kaibab trail is the most scenic and popular trail among hikers.
Cinque Terre, Italy
The Cinque Terre, a series of five coastal villages along the Italian Riviera, is a stunning hiking destination. The trail connects the villages with stunning views of the sea and the colorful, cliff-side village buildings. The hike takes about 5-7 hours, and you can stop along the way to enjoy fresh seafood in one of the villages.
Tongariro Alpine Crossing, New Zealand
The Tongariro Alpine Crossing is a 12-mile trail that crosses active volcanoes, thermal vents, and deep emerald lakes on New Zealand's North Island. The trail takes about 7-8 hours and is considered one of the most beautiful in the world. You might even recognize some of the landscapes from the Lord of the Rings films, which were shot in the area.
Hiking the world's most scenic trails is not only a great way to stay active but also an incredible opportunity to appreciate nature's beauty. From the majestic peaks of Kilimanjaro to the colorful villages of Cinque Terre, these trails offer a one-of-a-kind experience that you will never forget. So, gear up and start exploring!
Related posts
Advertisement